---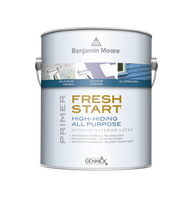 A superior quality, interior/exterior 100% acrylic primer that delivers maximum hide and ensures uniform finish.
It is the product of choice when a significant colour change is required. It provides superior adhesion and is more forgiving over difficult substrates. Additionally, this product is effective in sealing and suppressing most bleeding type stains. In cases of severe bleeding, a solvent based primer should be used to prevent stains from reappearing.
Features
Maximum hiding
Excellent all-around stain blocker
Whole house primer
Superior adhesion
Quick drying
Great flow & levelling
Mildew resistant
Recommended For
Interior: Use on new or previously painted wood, plywood, drywall, ceiling tile, Formica®, Masonite®, ceramic tile and cured plaster.
Exterior: Use on new or previously painted wood, fibre cement board, hardboard siding, aluminum, galvanized, cured masonry and previously coated ferrous metal surfaces.
Type of Stains: Water stains, tannin bleed, smoke damage, markers, crayons, pens, pencils, nicotine, hand & fingerprints, household stains such as coffee and many more.
2 coats of primer may be required in severe cases; allow the primer to dry thoroughly for best results.
Limitations
Not recommended for sealing knots or over pine sap.
On hard, non-porous surfaces, such as glazed ceramics and prefinished metal, maximum adhesion and hardness may take 3-4 days to develop.
Do not apply when air and surface temperatures are below 4.4 °C (40 °F).
---
Additional Product Information
Additional product information including sell sheet and SDS / TDS
---