---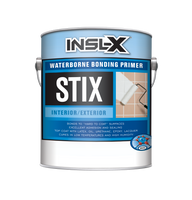 Stix® Waterborne Bonding Primer is a premium quality, waterborne, acrylic urethane primer/sealer with unparalleled adhesion to the most challenging surfaces, including PVC, Vinyl, Most Plastics, Glass, Tile, Glazed Block, Glossy Paints, Pre-Coated Siding, Fiberglass, and Galvanized Metals.
Stix is also ideal for use on plaster, drywall, wood, and non-ferrous metals, where a low ambient or surface temperature would present a problem for conventional primers. Offers an extremely hard film when cured. Use it on interior and exterior surfaces and topcoat with almost any type of coating including Alkyd, Acrylic Latex, Urethane, Epoxy, and Lacquer Finishes. Stix levels to a smooth surface and cleans up with soap and water.
Features
Strongly Bonds to Glossy Surfaces
Unparalleled Adhesion to the Most Challenging Surfaces.
Excellent Holdout
Water Clean-up
Cures as low as 1.7°C (35°F)
Recommended For
Interior and Exterior surfaces. Drywall, Plaster, Ceiling, Acoustical Tile, Wood Trim & Doors, Formica, Ceramic Tiles, Glossy Surfaces, PVC, Most Plastics, Masonry Walls, Wood, Trim, Shutters, Masonry, Stucco, Concrete, Cement Block, Galvanized Metal, Aluminum, etc.
Limitations
Apply when air, surface and product temperature are above 1.7°C (35°F)
Do not apply in direct sunlight or on a hot surface. Avoid rain, moisture or high humidity for the first 24 hours of curing.
Not intended for immersion service or continuous water contact. Not for below grade applications.
Not recommended for use over polyethylene or polypropylene. Stix® must be top coated for exterior use.
Not recommended over Kynar® (and similar finishes) unless tested and approved by the buyer.
Not recommended as a whole house exterior primer over wood
---
Additional Product Information
Additional product information including sell sheet and SDS / TDS
---