---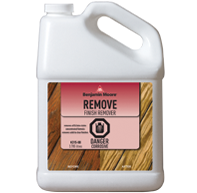 This product is designed for the removal of peeling oil or latex stain, varnish, and clear-coat wood finishes.
It will also remove damaged and discolored wood fiber from all exterior wood surfaces: decking, siding, shingles and furniture. Restores wood to its natural tone and prepares the surface for recoating.

Features
Removes both latex and oil finishes
Fast-acting formula

Removes clear finishes through solid color stains
Concentrated formula
Recommended For
Residential or commercial applications. Previously finished, exterior wood surfaces.
Limitations
Do not apply when air and surface temperatures are below 10 ° C (50 °F)

Remove, Finish Remover may darken certain wood types during application. If desired, use Brighten, Brightener & Neutralizer (K317) to restore wood color back to its natural appearance.
---
Additional Product Information
Additional product information including sell sheet and SDS / TDS
---